At the end of 2022, there were 167 semiconductor fabs processing 300mm wafers for the fabrication of ICs, including CMOS image sensors, and non-IC products such as power discretes.

While the semiconductor market downturn persists, 13 new 300mm wafer fabs are still being brought online in 2023. These new fabs are mostly for the production of power transistors, advanced logic, and foundry services.
Based on construction schedules as of late 2022, 15 300mm fabs will be brought online in 2024, 13 of them for production of ICs. A record number of fabs are expected to open in 2025 with 17 scheduled to begin production. With cutbacks in spending during 2023, some fabs previously scheduled to open in 2024 could be delayed to 2025. By 2027, the number of 300mm fabs in operation should exceed 230. These are projections made in Knometa's Global Wafer Capacity 2023 report.

An increasing number of 300mm fabs are being built to fabricate non-IC devices, and power transistors in particular. The manufacturing cost benefits of processing chips on the large wafers come into play for device types characterized by large die sizes and high volumes. Examples of integrated circuits with these characteristics include DRAMs, flash memory, image sensors, complex logic and microcomponent ICs, PMICs, baseband processors, audio CODECs, and display drivers. While large-size power transistors are still small compared to the die sizes of these ICs, they ship in high volumes and are big enough to keep a 300mm fab loaded at a cost-effective production level.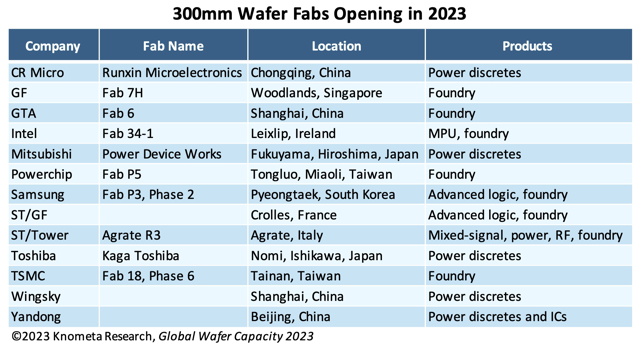 Of the 13 300mm wafer fabs opening in 2023, five are focused on the production of non-IC products, with three of them located in China and two in Japan.
Two-thirds of the new 300mm fabs opening this year are for foundry services, with four of them wholly dedicated to the service of fabricating semiconductors for other companies on a foundry basis.
ST formed two separate partnerships to add new 300mm fab capacity at existing sites in Crolles, France, and Agrate, Italy. In Crolles, ST is working with GlobalFoundries to add new capacity for advanced logic and foundry services. In Agrate, ST and Tower Semiconductor are adding capacity for mixed-signal, power, RF, and foundry services.
Much of the pain from the current market contraction is being felt in the memory chip arena. Not surprisingly, there are no new 300mm fabs for memory opening in 2023.
The report is available for
purchase here
.